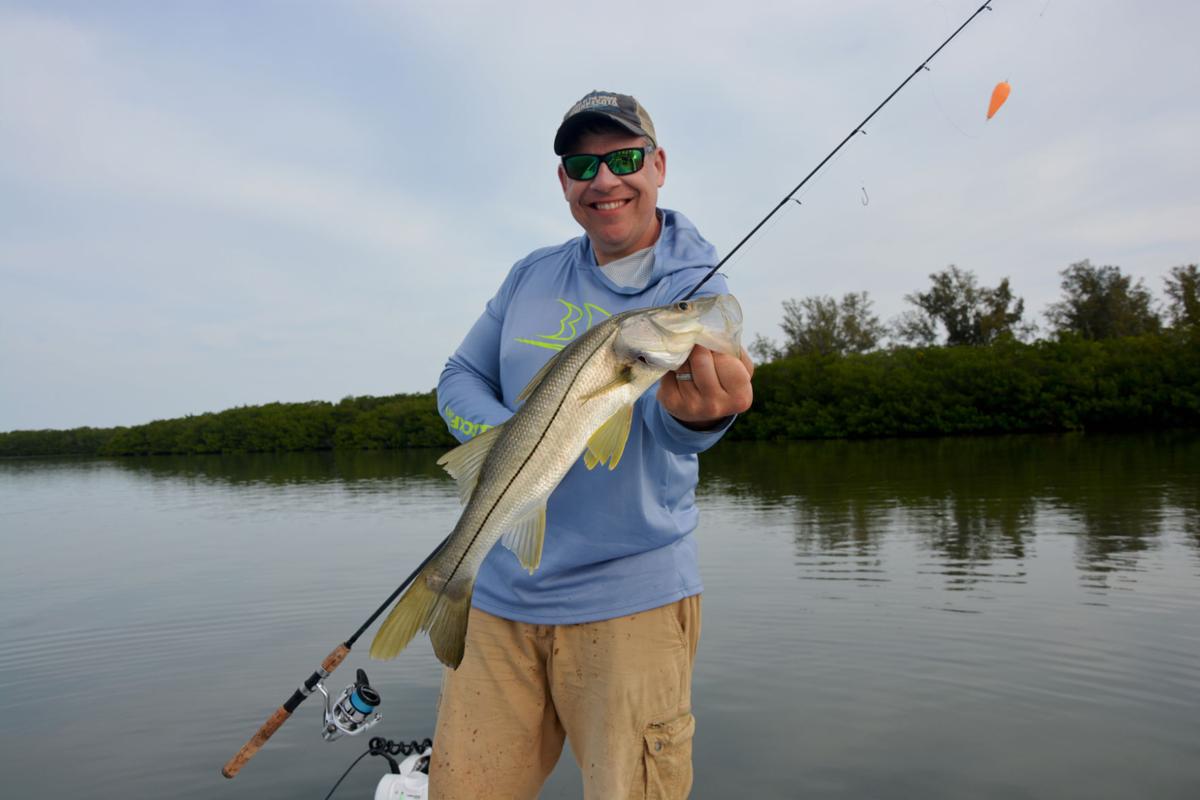 THE FEISTY pinfish attached to my circle hook seemed a little nervous as it swam beneath the water's surface in southwest Florida last week. Anxious bait usually means the ultimate source of its doom hunting nearby. It signals the angler to prepare for a bite.
A solid thump, then a bent rod, then a flash of silver erupting from the water, twisting, twirling before splashing horizontally back into the drink.
Hooking a tarpon is one thing; landing one is another. My experiences with big tarpon are less than laudatory. Never have I managed to keep a powerful, grown tarpon on the line for more than 30 seconds.
The typical scenario sees the fish usually throwing the hook on the first leap and always by the second. But this tarpon, while having all the athletic abilities of its forefathers, was a youngster. It must not have yet mastered the full tarponesque, Houdini-worthy, hook-escaping technique.
St. Augustine, about a 10-hour drive, was a perfect first destination. If you enjoy history, St. Augustine is must-see. Incredible beaches, lively venues in the old town, Spanish forts and, yes, fishing accent the scene.
I originally was scheduled to fish offshore, but weather intervened. We scrambled for an alternative. Fishing guides are routinely booked solid in the spring, but my friend Barbara Golden of the local Visitors and Convention Bureau found Capt. Jacob Hardy of Fishardy Charters (fishardy.com). His 24-foot Canyon Bay boat is well-suited for making offshore runs or fishing shallow inshore flats.
We set out for a half-day inshore trip, hoping to catch something that could be transformed into a fresh fish dinner at one of the area's "cook your catch" restaurants. With the tide screaming out of the channels and rushing to the Atlantic Ocean, Hardy snuck into a deep honey hole that usually offered up a redfish or two.
I was quickly winding in a keeper redfish. Soon after, a larger fish crunched a piece of cut blue crab, giving a mighty fight before Hardy netted it. That fish was barely over the slot limit and was soon returned to the water.
Golden added to the dinner lineup as we fished near the end of a massive jetty leading boaters into the Atlantic. Juvenile black drum, the ones with vertical bars somewhat resembling sheepshead, made their way to the live well.
Dinner that evening at the Kingfish Grill was impressive. Grilled redfish with a picatta sauce and blackened drum—simply, the finest blackened fish I've ever eaten – was served.
From East to West
Moving diagonally southwest across Florida, I ended up in Punta Gorda, site of our meeting. A productive, lengthy business session was followed by a day on the waters of Charlotte Harbor, Florida's second largest estuary, fed by three major rivers and home to a diverse array of aquatic life.
The area was devastated by red tide a couple years ago. It killed many inshore fish and other species, including turtles and manatees. To rebuild stocks, Florida instituted a ban on keeping any redfish, snook or speckled trout, the region's mainstay (and tasty) sportfish.
Restrictions seem to be working, especially for snook. These sleek, fast-growing, hard-fighting fish are aggressive and fun to catch.
Withers immediately had us on snook. We caught dozens in a little more than an hour. Live scaled sardines, commonly called "pilchards," were the bait. Most of the snook were 18-24 inches long. These young fish seem to reflect a solid bounce back of this important species.
Our goal was a "slam," catching a trifecta of snook, redfish and speckled trout. My first redfish came in an unusual way: tail-wrapped and not hooked. Oh well, fish ropers need love, too. A bigger red, almost 31 inches long, came later in a more conventional manner.
Our next move, to an area with a submerged oyster bar, resulted in a bounty of specks. Withers delivered the goods, making our slam look easy.
The waters off Fort Myers and Lee County are also among those in an eight-county region protecting the three above-mentioned sportfish. After catching an abundance of snook and redfish a couple days earlier, we hoped to change things up. A quest for some keeper mangrove snapper, pompano or sheepshead didn't pan out. Acrobatic ladyfish, sometimes called "poor man's tarpon," jack crevalle and juvenile gag grouper covered the preferred meat-fish area.
We moved on. Jones headed his skiff to a place at the south end of Charlotte Harbor where the water was protected and placid. Big snook sometimes hung around the docks and mangroves in the area. Juvenile tarpon were also in the area.
The first customers were larger jack crevalle and big gafftopsail catfish. Tarpon would occasionally roll on the water's surface and Jones instructed us to try to pitch our baits as close to the swirl as possible. It wasn't long before Todd Jones and I were posing with our first tarpon.
Still, full disclosure: Even one of the young tarpon humbled me, throwing the hook in about 10 seconds!
For more wide-ranging outdoors coverage, including photos, video from the Florida coast-to-coast fishing trip, wildlife cooking and more, see Ken Perrotte's weblog at outdoorsrambler.com.