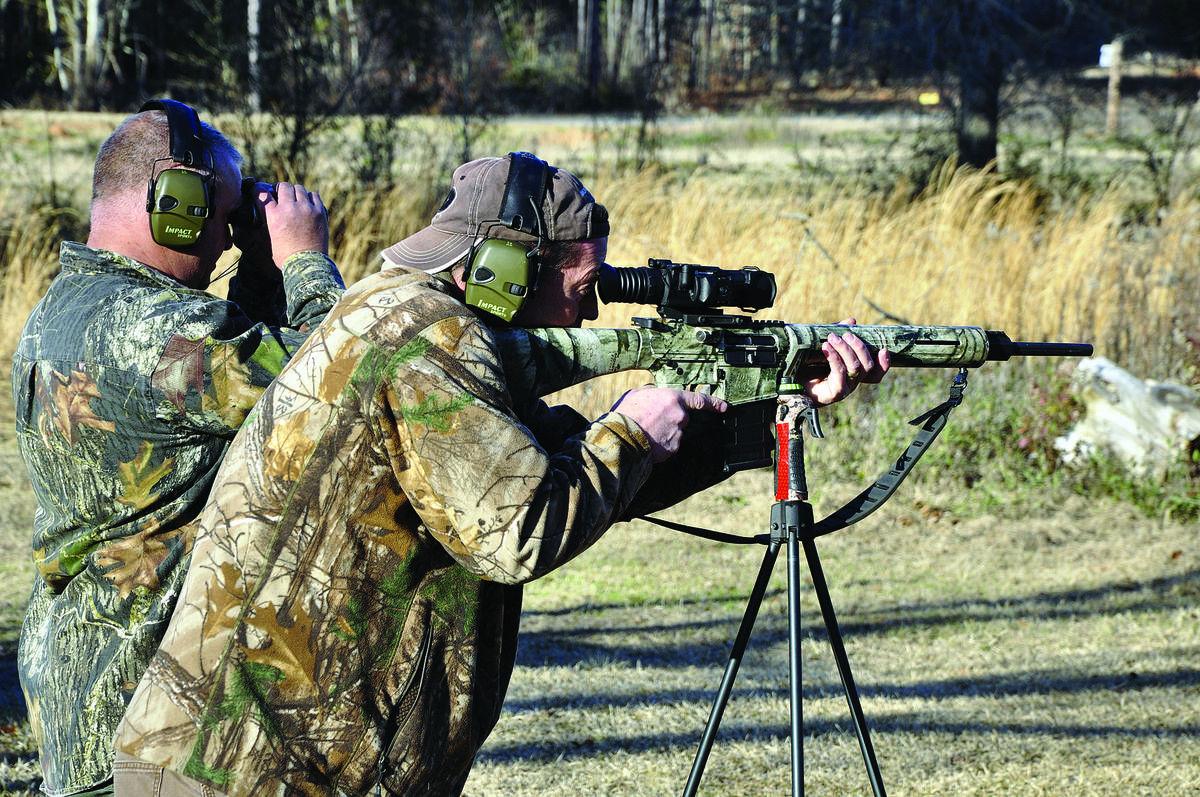 SCANNING THE VAST southwest Georgia peanut field, Lance Hopper saw a commotion between a few of the region's thousands of feral hogs.
The trick is, he was watching the action at 11 p.m. under an utterly moonless sky by using a BAE thermal scope capable of clearly depicting objects up to 1,000 meters away, showing them as glowing white as the device paints their heat signature.
Studying the activity, Hopper could see two boars fighting. Not far away, a sow and a boar more than twice her size were engaged in, shall we say, connubial endeavors. A few other pigs contentedly nibbled peanut field residue.
"Let's go," Hopper, a retired Army non-commissioned officer, expert marksman, and guide for the Jager Pro hog hunting team, told Bob Ackerman and Randy Hutchison, his two hunters for the evening.
The trio silently moved single file toward the hogs. Ordinarily, a stalk through the field must by stealthy, but the simultaneous brawl and noisy porcine sexual activity masked the hunters' movements and let them slip within 50 yards of the action. They spread out shoulder to shoulder, set their tripods and turned on the thermal optics atop their Remington AR-25 rifles chambered in .308 Winchester.
"Safeties off," Hopper said. "On my count, three, two, one "
Three rifles fired as one. Old Don Juan had just consummated his final conquest as Ackerman's safety came off and he drilled the hog through the front shoulders with a 180-grain Hornady anesthetic. Flush with adrenalin—or whatever it is hogs feel after a happy ending—the pig didn't know it was already dead and bolted. A pair of follow-up shots anchored the tusker.
When the shooting was over and quiet returned to the starry night, three large hogs lay dead in the field.
The seductive sow will never deliver the 4–6 piglets likely just conceived. But, that's the goal: hog control. To keep the prolific critters in check, about 70–80 percent of the current population must be killed every year.
Our team of four hunters from King George, including my neighbor Dan Josselyn and me, whacked a total of 28 hogs in two evenings. Josselyn and I hunted with Chris Monhof, a retired Army chief warrant officer and founder of Southern Hog Control LLC, which partnered with Jager Pro in the hog control business.
To be honest, Josselyn and I were a bit "challenged" in our shooting skills, especially on the second evening when Monhof single-handedly delivered the knockout to most of our pigs.
I can't claim sun in my eyes caused my crappy shooting, but I can definitely cite diminished motor skills and brain cycling time due to consecutive evenings of four hours of sleep and a nearly 11-hour bouncy ride from Virginia to Dawson, Ga., the location of the hunt's Mos-sey Creek Lodge base camp.
Energy drinks provided enough caffeine to keep us awake, but 700-yard stalks at 3 a.m. left me a little winded and a couple of times I channeled the "shakiest gun in the West" as the reticle of my rifle's optic rapidly wavered around on and off target.
Jager Pro accesses about a quarter-million acres across the lightly-populated region. Hogs inflict tremendous agricultural damage and Jager Pro was one of the first of now several outfits offering to help farmers control hogs and give hunters unique, up close and intense hunting opportunities.
Jager Pro also pioneered hog-trapping operations and has tools to remotely detect when a pen has a full "sounder" or extended family group of hogs inside the enclosure. With a push of a button on a smart phone, Monhof can activate and close a gate that traps the pigs.
Hunting with thermal optics at night was new experience for most of us. Ackerman said becoming familiar with the unique equipment, especially the need to keep your eye snug in the BAE scope's compression cup, was the biggest challenge. All it took was a couple of stalks to become fairly proficient, he said.
The BAE scope is a military product, the same scope used by our troops in combat over the last decade or more.
Josselyn and I were using rifles equipped with newer Armasight scopes. These didn't have a compression cup and operated more like a conventional scope. The resolution, especially at basic and 2X power, was fairly crisp. Newer thermal scopes at semi-affordable prices are beginning to reach the consumer market.
The brunt of the hogs Monhof, Josselyn and I saw were sows with piglets. We killed just one boar. We should have killed two, but Dan and I fanned spectacularly on the final pig of the hunt, a solitary boar about 120 yards distant when we opened fire.
When finding a group consisting mainly of a few sows and a bunch of piglets, Monhof counseled on the importance of first killing all the adult hogs. The leaderless piglets will run about frantically for a few seconds but then regroup and bunch up making them easier to take out with follow-up fire.
Now, before any "Aw, that's terrible" comments, remember the goal isn't hog management to preserve a huntable population; it's hog control to remove as many destructive feral swine as possible from the landscape.
"We had one group of sows and piglets and we knocked down a couple sows, then started firing at the piglets," Hutchison said.
"Lance yelled, 'Stop shooting,' but it was hard to stop squeezing the trigger. It was like we were in a real-life video game," he confided.
Unlike a video game, though, you can eat the results on a trip like this. Most of those hogs were quartered and rode back to Virginia inside coolers.
Ken Perrotte can be reached at The Free Lance–Star, 616 Amelia Street, Fredericksburg, Va. 22401, by fax at 373-8455 or email at outdoors@freelancestar.com.
Be the first to know
Get local news delivered to your inbox!