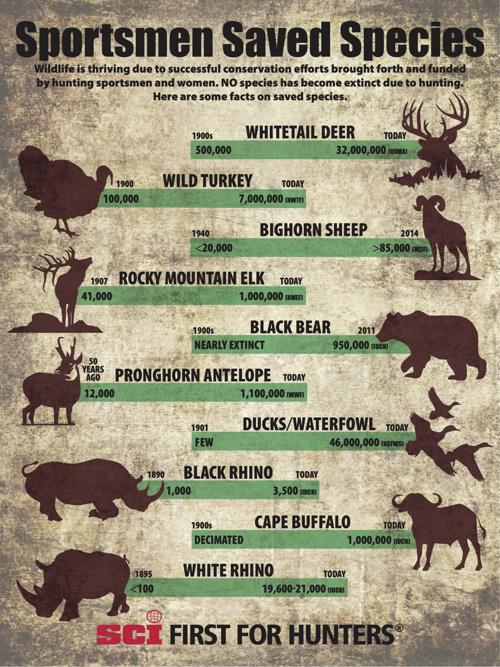 VIRGINIA'S hunting season is entering the "full speed ahead" phase for 2020.
Archery seasons are underway for deer and bear with early muzzleloader season for deer beginning in a couple weeks. Fall turkey seasons begin this weekend in many counties across the commonwealth. Seasons for some migratory birds and small game species are open or opening soon.
So far, Virginians are fortunate to enjoy abundant hunting opportunities. And those opportunities represent good things for conservation and our wildlife species. As we've noted many times, hunters and anglers are the people largely paying for wildlife conservation in the United States.
License fees and funds apportioned to each state by the federal government provide most of the financial resources used by the Virginia Department of Wildlife Resources. Of the nearly $602 million apportioned this year, Virginia received nearly $11 million, as well as another million in wildlife grant funding.
Since its passage in 1937, the Pittman-Robertson Act has raised more than $8 billion for conservation. Passed at the behest of hunters, it places an excise tax on firearms, ammunition and other sporting equipment
Hunting, though, remains under attack in many quarters. Bear hunting may soon disappear, again, from New Jersey and a senate bill in California that would have prevented people from possessing or importing 13 lawfully hunted African species narrowly failed.
Hunting bans or emotion-based restrictions do nothing for wildlife but diminish their value and economically hurt local communities that benefit from hunters traveling to their areas in pursuit of specific species. Beyond that, there is an entire economic ripple effect, related to travel expenses and that excise-tax generating equipment and gear.
Africa, in particular, is often targeted for various hunting bans and restrictions, much to the detriment of local economies and communities there.
Hunters have many resources they can tap to ensure they speak with facts when countering antihunting efforts. Among them is a new "Hunt the Facts" campaign (safariclub.org/huntthefacts) by Safari Club International.
The facts available at the SCI website highlight how hunters worldwide protect habitat and wildlife conservation while offering tangible benefits to the communities and countries where they hunt.
An online research library contains dozens of science-based documents about the benefits of regulated hunting as a management tool, a revenue source and, especially in places like Africa and Asia, a means of incentivizing habitat preservation and bringing value to wildlife. Wildlife is easily reduced to being perceived as a nuisance or a threat or, simply, "bush meat" without the value legal hunting creates.
Well-designed information graphics are the spotlight of the "Myths versus Facts" section, while the fact-based "Species Conservation" section outlines how and where wildlife is thriving due to successful conservation efforts supported and funded by hunting sportsmen and women.
Just as voting is essential for all connected with the broad community of outdoors enthusiasts, so is arming yourself not only with the latest gear but also the facts that can be used to illustrate the value legal hunting brings to conservation.
Keep it Legal
Legal firearms ownership is another cherished right. The options we enjoy for hunting, recreational shooting or personal defense firearms are many. Ensuring firearms transactions are legally conducted is important to preserving that right.
The fact that lying on a background check document required by licensed federal firearms dealers can earn you 10 years in jail and a $250,000 fine was the centerpiece message of a press conference in Richmond Monday.
The event at the Colonial Shooting Academy featured speakers from the National Shooting Sports Foundation, the trade association for the firearm industry, the Bureau of Alcohol, Tobacco and Firearms, and the U.S. Attorney for the Eastern District of Virginia.
Illegal "straw purchases" of firearms--namely. purchasing a firearm for someone not listed on the background check form--is a constant concern. It is one reason why the NSSF launched 20 years ago a campaign called "Don't Lie for the Other Guy."
According to Lawrence Keane, NSSF's senior vice president and general counsel, an ongoing goal is to raise public awareness about the seriousness of the crime of purchasing a firearm for someone who cannot legally do so.
"To legally purchase a firearm, a person must be able to pass an FBI National Instant Criminal Background Check and fully comply with state and local laws. When a criminal knows he cannot pass this check, he may try to induce a friend or other person to make the purchase on his behalf, which is known as a straw purchase and is a felony," Keane said.
U.S. Attorney Zach Terwilliger said female associates, acquaintances, or girlfriends are often asked to purchase weapons on behalf of their male companions. Terwilliger said the person who lies on that form is liable for a felony offense, as is the person who asked for the illegal purchase.
He said he has personal experience in prosecuting these illegal transactions and has a "keen interest" in discovering if firearms recovered at crime scenes or during search warrants were straw purchased. Terwilliger said many straw-purchased firearms wind up in the hands of criminals who then use those guns for violent armed robberies, shootings, assaults on law enforcement and more.
Chris Amon, the assistant special agent in charge of the ATF Washington Field Division, said illegally purchased firearms recovered by law enforcement have been connected to violent crimes in the greater Richmond area.
"'Don't Lie for the Other Guy" means that it doesn't matter who asks you to purchase a firearm for them, even if it's a friend or family member, or what reason they give you for needing the weapon, there is never an instance or situation in which you can legally purchase a firearm for someone else," Amon said. "If someone tells you they need a weapon for self-defense, it's a crime to buy it for them. They want to use it for hunting, or just for target practice–it's still a crime."
Be the first to know
Get local news delivered to your inbox!