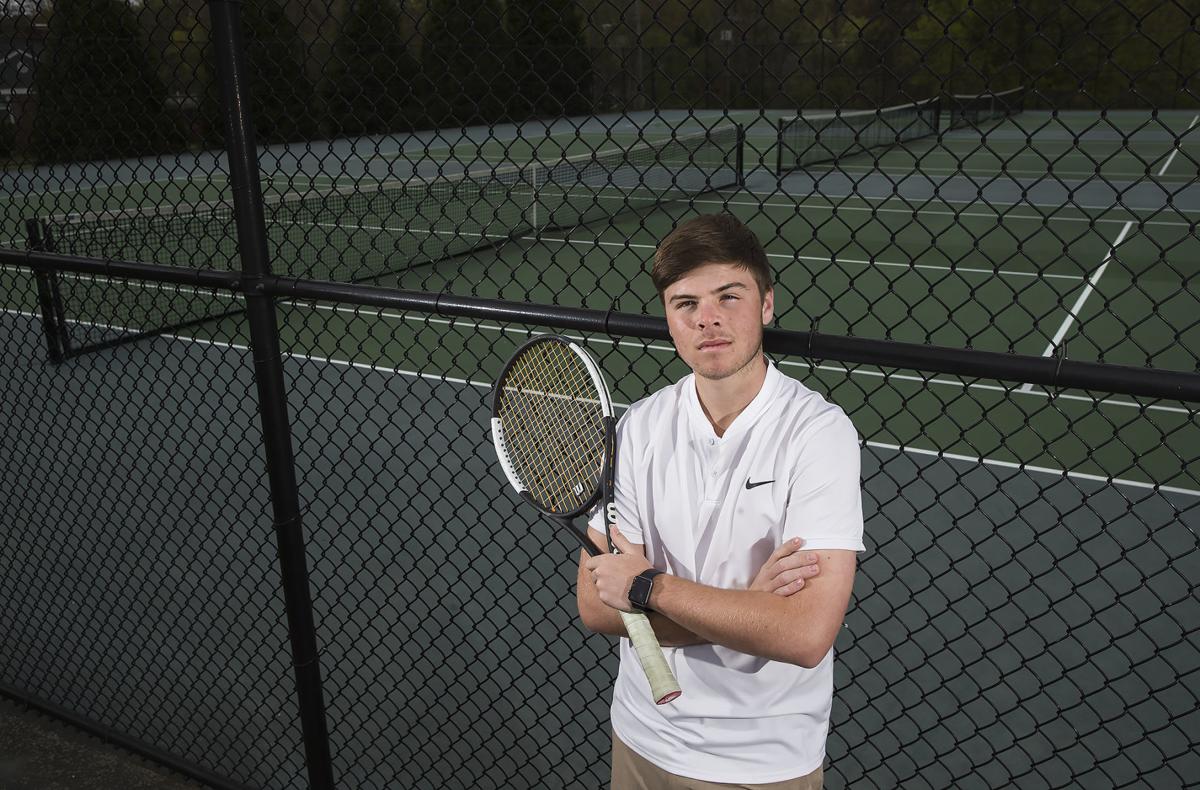 As Noah Adams shelters in place at his family's Fredericksburg home, the James Monroe senior bounces from video games to movies to puzzles in an effort to stay busy.
"I'm trying to keep myself from going crazy," Adams said.
It's not the way Adams envisioned spending the final spring of his high school tennis career.
Adams went 21–1 in singles competition last season for the Yellow Jackets. He and fellow senior Cooper Sims finished 26–2 as a doubles tandem and advanced to the Class 3 title contest where they fell to a team from York High.
Adams had grand plans for himself and a host of other JM seniors this season before the coronavirus pandemic indefinitely suspended it. The season will likely be canceled after Gov. Ralph Northam's stay-at-home order was put in place until June 10 last Monday.
James Monroe tennis coach George Christoforatos consoled Adams and others when news broke and the Yellow Jackets have been taking it hard ever since.
"We were distraught," Adams said. "All the things you work for all these years and to have the last part of high school and spring sports taken just like that hurt. But that's what had to happen to keep everyone safe."
Christoforatos said the Yellow Jackets were "locked and loaded" as they looked to defend their district and region titles. They believed they could earn the program's fourth team state championship after falling in the Class 3 title game to Western Albemarle in 2019.
Adams and Cooper each returned as the No. 1 and No. 2 singles players, respectively. The Yellow Jackets had plenty of depth, too.
Christoforatos was especially eager to see the progression of senior Joseph Cherian who worked tirelessly since the end of last season to work his way into the team's top six for the first time.
Cherian was on the JM tennis courts when Christoforatos informed him about the end of the season.
"He just broke out in tears. I felt for him," Christoforatos said. "I started crying with him and then I called Noah and he started crying. It means more than just tennis. It was a lot of work and effort this team put in. We've been very successful in our area and our region and our goal was to win the state this year."
Adams said he was anticipating an opportunity to grow as a leader since he was entering his third year as a team captain.
On the court, he's been working on adding more speed and strength to his serves.
Christoforatos said he noticed advanced leadership skills in Adams from the beginning and his game eventually caught up.
"It's the little things that guys like him do," Christoforatos said. "They set up early and they're ready to go. They want a little more so they stay after. They see things that other kids miss. When we're cleaning up, Noah always had a little extra vision."
Christoforatos said Adams' ability was slighted by others early in his career, but he's continued to develop. While he may not possess the power that many of his opponents do, he's able to go toe-to-toe with some of the strongest players in the state.
Christoforatos said that's because of his tennis IQ.
"Noah takes that power [from opponents] and he absorbs it," Christoforatos said. "Sometimes he'll dink it and sometimes he'll lob it back. This season I was going to watch him play, take that power away from his opponents and frustrate the mess out of guys with a game that I call a senior men's game in a high school outfit."
Adams hopes to play club tennis at one of his final two choices for college—the University of Virginia or the University of Maryland.
His father, Gary Adams, is a Maryland graduate. Adams likes that Virginia is an in-state school but noted he'd have to wait two years to be accepted into its business program. Maryland has already granted him admission into its business school.
He's played tennis since he was 4 years old and was aiming for one final hurrah with the Yellow Jackets.
"It's unfortunate," Adams said. "This was going to be a big year for all the seniors on the team."
Taft Coghill Jr: 540/374-5526