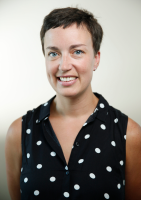 AdeleUphaus
Bio

I have covered education, local government and social services for the Free Lance-Star since 2016.
An unspecified number of staff members at Shirley Heim Middle School in Stafford County have tested positive for COVID-19, according to a lett…
At the beginning of June, Christopher Ruble had never heard the name Urbane Bass.
Amid calls to "defund the police," local law enforcement leaders agree on places—such as mental health transport and drug addiction treatment programs—where police involvement could be reduced. 
Germanna Community College, the University of Mary Washington and Stafford County Public Schools have finalized a partnership that seeks to ma…
The Stafford County School Board has followed other area school divisions in approving a virtual start to the 2020–21 school year for all students.
Fredericksburg-area school officials weigh student needs, health concerns as they prepare for the start of a new school year amid ongoing pandemic.
Locally, the percent of all households living under the ALICE threshold ranges from a high of 54 percent in Fredericksburg City to a low of 26 percent in King George County. 
Fredericksburg City police will not release body camera footage from two incidents in which tear gas was fired at protesters in the city on May 31 until the department completes its own internal investigation.
Seven Fredericksburg-area lawyers are working together to provide free representation to the 50 people who were arrested on misdemeanor charges related to protests against police violence in late May and early June. 
The Rappahannock United Way expects its ALICE Assistance Fund to be depleted by the fall, RUW president Janel Donohue said this week.
View all