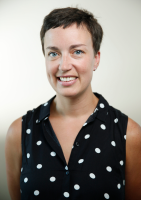 AdeleUphaus
Bio

I have covered education, local government and social services for the Free Lance-Star since 2016.
Last week, staff at Brooke Point High School in Stafford County enjoyed a salad of butterhead and romaine lettuces with cucumbers, tomatoes an…
On May 4, 1961, the Freedom Riders stopped in Fredericksburg to challenge segregation in the city's bus station.
This Tuesday, exactly 60 years after the Freedom Riders made Fredericksburg the first stop as they headed south, city officials will hold a ceremony to mark the site and commemorate Fredericksburg's role in that chapter of the civil rights movement.
Tami Owolabi was feeling stuffed and sleepy after Thanksgiving dinner last year, but instead of lying down for a nap, she retired to her room,…
The Stafford County School Board on Tuesday unanimously approved a fully funded $341.5 million operating budget for fiscal year 2022, which be…
Both elementary schools in Fredericksburg will serve grades K–5 starting this August.
Nine smaller ceremonies will be held rain or shine next weekend on the fenced-in Campus Recreational Field next to U.S. 1. 
Downtown Greens Director, Sarah Perry said the organization sees buying the property as an opportunity to expand its programming in the areas of sustainable agriculture, environmental education and land conservation. 
View all