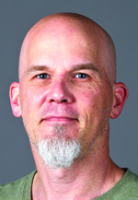 Scott Shenk
Bio

I am a Stafford County native and veteran reporter covering Fredericksburg region transportation issues and Spotsylvania County.
A DETOUR on Rock Hill Church Road in Stafford County will be in place until at least the middle of October as crews build a temporary bridge o…
Spotsylvania County is starting a water system improvement project ahead of schedule because of a $3.5-million donation.
The Spotsylvania County Board of Supervisors has approved a plan for spending a second round of federal COVID-19 funds, but continues to tussl…
Two more local deaths related to COVID-19 were reported Tuesday in the Fredericksburg region, one in Spotsylvania County and the other in Staf…
The Spotsylvania Board of Supervisors will hold a public hearing Tuesday addressing how the county should spend its second round of federal CO…
Are you fretting over the odd sight of the Chatham Bridge' naked concrete pillars and wondering if it will ever open again?
The data show daily traffic fell 60 percent below last year's figures in April, but gradually crept back up to within 15 percent of last year's figures in July and August. 
Work on the Truslow Road overpass in Stafford County is going to cause delays on Interstate 95 every night into next week.
This seems a strange place for an obituary. But I received the news on Friday, and a transportation column seems to be the only fitting place for it.
The proposed changes address an issue where the boundary line splits properties, meaning some tracts lie in both counties.
View all