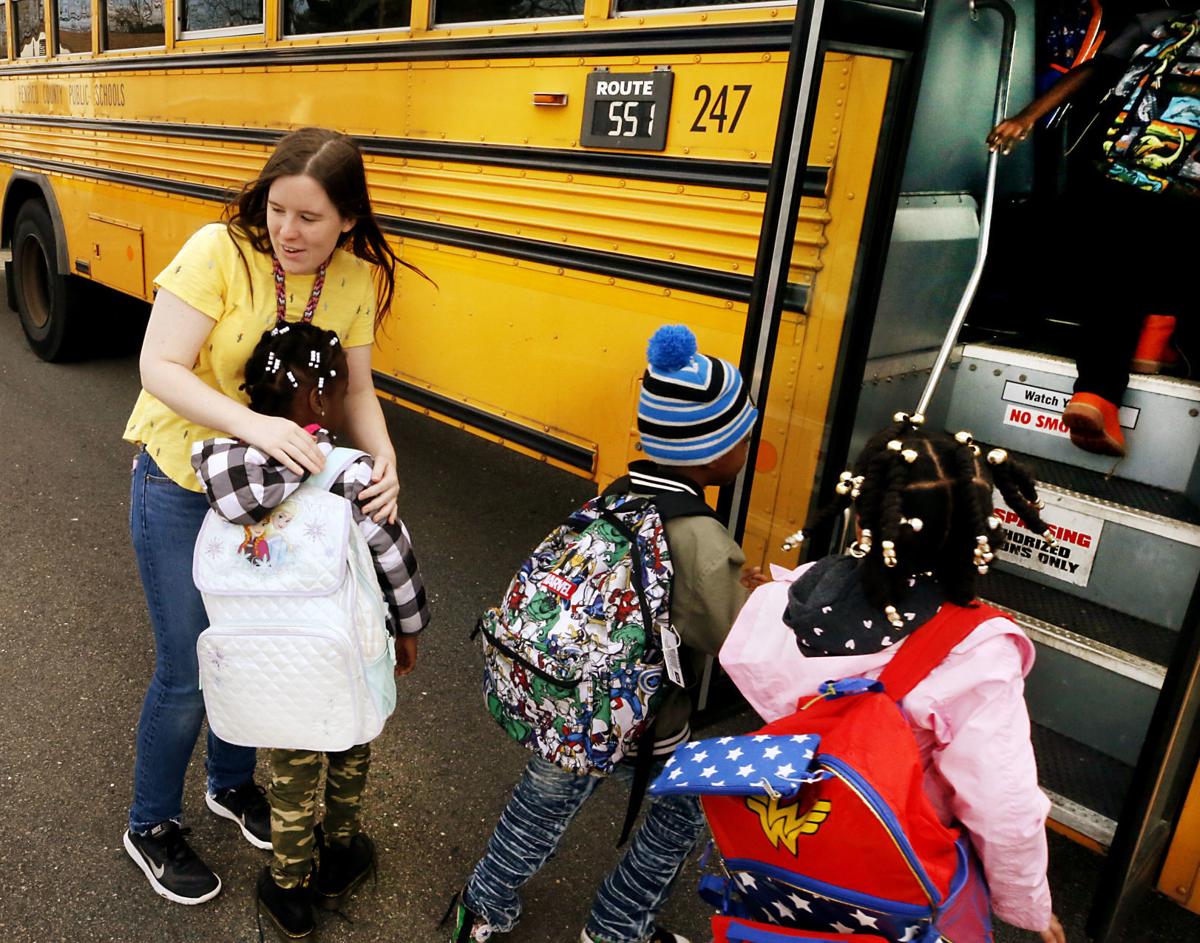 Gov. Ralph Northam said Monday that he's "hopeful" that students will return to school in the fall.
Under a March 23 order from Northam, Virginia became just the second state in the U.S. to close school buildings for the rest of the academic year; Kansas was first to do so. Since then, schools across Virginia have made the transition to virtual learning while feeding students through meal pickups and drop-offs.
The state's chief executive, who will ultimately decide when school buildings reopen, expressed some optimism during Monday's news briefing.
"It is very important for me to get our children back in schools," Northam said. "As soon as we can safely get our students back into the classroom, we will do that."
He added: "I am hopeful that our students will be back in the classroom this fall."
Northam commended efforts by school districts to adapt to the pandemic with virtual learning but said it's "not a perfect solution."
"Our children and our scholars in colleges and universities are going to be much better back in the classroom because it's an equity issue," said Northam, citing the fact that 550,000 families in the state don't have access to broadband internet.
"While it sounds reasonable and encouraging to say that we're doing a great job educating our children through virtual learning, there are a number of children around Virginia that don't have that opportunity."
On Monday, the governor formally announced an education work group that has been meeting since April 23 to figure out how to reopen schools, rather than when to reopen them. The panel includes officials who specialize in early childhood education, K-12 education and higher education.
Among the members is Virginia Superintendent of Public Instruction James Lane, who also is leading a separate task force of Southern states to "identify strategies for reopening schools and prepare for a potential resurgence of COVID-19."
Said Secretary of Education Atif Qarni: "As we begin to think about how Virginia's education system can operate in the summer and fall, it is crucial that we have the advice of a diverse, thoughtful group of education leaders. This group will use their expertise to guide our approach and help ensure that all voices are heard and all recommendations are made through the lens of equity."
Northam said the panel will create different reopening options.
"It's not going to be a one-plan-fits-all," he said.
As state officials hammer out potential options, individual school districts are weighing their own. Fairfax County Public Schools, Virginia's largest K-12 school system, announced Friday that its preparation includes scenarios where students will start the school year remotely; where students return to school with social distancing in place; and where schools open on time, but students and staff who are unable to return will attend through virtual learning.
Henrico County Public Schools is working on at least five possibilities for the fall, spokesman Andy Jenks said Monday. Those possibilities include:
Option A: Students return to campuses and the school system adjusts its classroom pacing to fill in content that was missed this spring.
Option B: Students continue remote learning "in a bolstered and enhanced manner."
Option C: Students return to campuses for several weeks or months at a time. There would then be stints of remote learning.
Option D: Some students learn on campus while others learn remotely. That could mean alternating the days in which students go to school.
Option E: Some students learn on campus and others learn remotely "out of choice or necessity, without alternating days."
"All of these possibilities require a great deal of additional thought and planning related to the reopening of public schools, especially considering that we won't know for sure what the health and safety guidelines and restrictions might be in September," said Jenks, who added that students and families can expect more information "in the near future."
Richmond Public Schools hasn't released potential plans for the fall, but the city's schools superintendent, Jason Kamras, said Monday that he's "thrilled" to hear Northam's optimism.
"We can't wait to see our students again," Kamras said.
Chesterfield County Public Schools and Hanover County Public Schools said they are considering their own plans but are still waiting on guidance from the state.
"Ultimately ... we are awaiting guidance from the governor as to how to proceed," Chesterfield schools spokesman Shawn Smith said.
Said Hanover schools spokesman Chris Whitley: "We are eager to see our students back in our hallways, and we are working through a wide variety of scenarios in anticipation of reopening in the fall. Our plan will be largely dependent upon the official guidance we receive from the governor, the Virginia Department of Education and the Virginia Department of Health. In all scenarios, our primary focus will be upon providing the best possible education and support to our students and families."
Many colleges in the state have already announced plans to return to on-campus instruction in the fall.
"We're committed to a fall semester on campus where we'll be back all together again in our classrooms and in our offices," Christopher Newport University President Paul Trible said earlier this month. "We must work together to make that happen. And when we return, we'll need to do many things differently in order to keep everyone safe and healthy."
The newly announced task force is expected to release its report by the end of the month with recommendations on the issues that schools must address before reopening.
Once that guidance is developed, Northam's office said, the group will start work on long-term recovery plans that will address learning gaps and students' emotional needs as a result of school closures.
(804) 649-6012
Twitter: @jmattingly306
Be the first to know
Get local news delivered to your inbox!