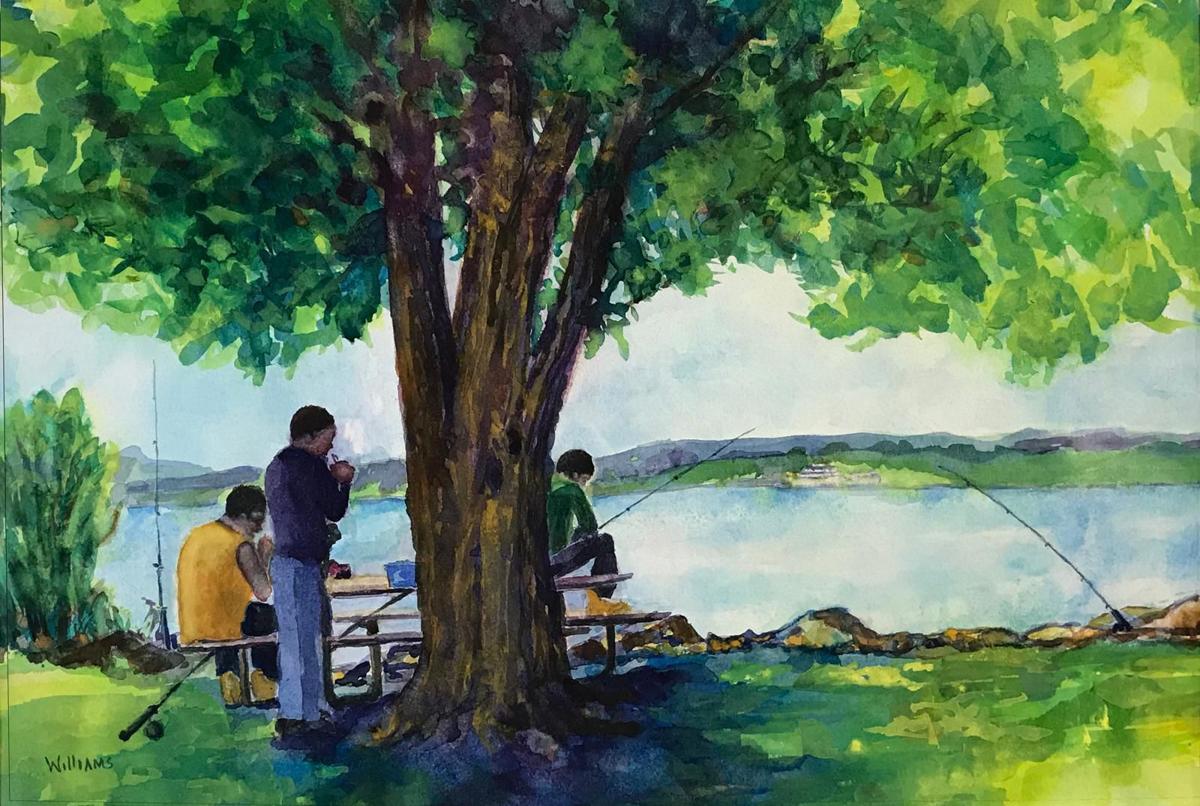 Days and hours of operation may vary. Call ahead or see website before visiting venue.
810 Weekend Gallery, 810 Caroline St. New works by Beverley Coates (watercolors), Penny A. Parrish (photography) and Lynn Abbott (acrylics and oils). First Friday reception 6-8:30 p.m. 540/371-4099.
Art First Gallery, 824 Caroline St. "Fire and Ice = Hydrants and Cones," abstractions and photographs by David Lovegrove. Through Sept. 1. First Friday reception 6-9 p.m. 540/371-7107; artfirstgallery.com.
Artful Dimensions Gallery, 922 Caroline St. All-Member Show. Through Sept. 2. First Friday reception 6-9 p.m. 540/899-6319; artfuldimensionsgallery.com.
Artists' Undertaking Gallery, 309 Mill St., Occoquan. "Hot Diana, Cool Copper," Diana Series paintings by Roger Frey and copper work by Anne Jordan. Through Aug. 5. 703/494-0584; artistsundertaking.com.
Atrium Gallery Art Studio, 526–2 Wolfe St. Works by Nancie Harris. Acrylic and watercolor paintings, Chinese embroidery, turquoise jewelry and cigar boxes. 540/538-6072.
Backdoor Gallery, 819 Caroline St. Works by local artists. First Friday reception 6-9 p.m. 540/371-3900; backdoorgallery.org.
Brush Strokes Gallery, 824 Caroline St. "Back to Basics: A Behind the Scenes View of the Process of Creation," Through Sept. 1. First Friday reception 6-9 p.m. 540/368-0560; brushstrokesfredericksburg.com.
Caton Merchant Family Gallery, 9419 Battle St., Manassas. "Resilience and Rebirth," works by Martin Cervantez. Through Aug. 31. 703/330-2787; center-for-the-arts.org.
Coldwell Banker Elite, 233 N. Irving Ave., Colonial Beach. New works, including photography, paintings and jewelry, by members of the Colonial Beach Artists' Guild. 202/271-6050.
Colonial Beach Brewery, 215C Washington St., Colonial Beach. Works by local artists. 540/538-1443.
Colonial Beach Chamber of Commerce, 106 Hawthorn St., Colonial Beach. Virginia is For Beach Lovers exhibit, featuring variety of artists. 804/224-8145.
Darbytown Art Studio, 241 Charles St. Works by Dawn DeCourcey, who will show her unique concept of "alphabetography," and photography and paintings by Wayne Butler. First Friday reception 6-9 p.m. 804/334-5156; facebook.com/DarbytownArt.
Dockside Realty, 104 Taylor St., Colonial Beach. Graphite drawings and portraits by Anthony Silver, a 2014 UMW grad. 757/435-5578.
Fredericksburg Center for the Creative Arts, 813 Sophia St. Frederick Gallery: "Artist Choice." Members Gallery: works by Jennifer Galvin and Toni Scott. Through August. First Friday reception 6–8:30 p.m. 540/373-5646; fccava.org.
Gari Melchers Home and Studio, Belmont, 224 Washington St., Falmouth. Rotating works by early-20th-century artist Gari Melchers. Included with museum admission. 540/654-1015; garimelchers.org.
Historic Kenmore, 1201 Washington Ave. See works by local artist Betsy Glassie in the Crowninshield Museum building and tour the gallery to see Kenmore's art collection, displays of 18-century furniture, and decorative arts. The Kenmore mansion will be closed. Open First Friday 6-9 p.m. Free. 540/373-3381; kenmore.org.
The James Monroe Museum, 908 Charles St. New exhibit: "James Monroe: the Library of a President," include books owned by James Monroe, as well as those obtained by the museum that are contemporary editions of works known to be in his personal collection. 540/654-1043; jamesmonroemuseum.umw.edu.
Jarrett Thor Fine Arts, 100 Taylor St., Colonial Beach. The Artists' Alliance: "For the Love of Color," works by pastel artist Kathy Waltermire. A variety of art, including clay, basketry, wood, glass, oils, watercolors and acrylics, by AA members. Plus original paintings and decorative minerals by Carl and Joyce Thor. 804/224-6007.
The John J. Wright Cultural Center Museum, 7565 Courthouse Road, Spotsylvania. "They Has A Mind to Work: A Century of African American Education in Spotsylvania County." 540/582-7583; jjwmuseum.org.
LibertyTown Arts Workshop, 916 Liberty St. Fredericksburg Plein Air Exhibition, A Regional Art Show. Through Sept. 1. First Friday reception 5–9 p.m. 540/371-7255; libertytownarts.com.
Louisa Arts Center, Purcell Art Gallery, 212 Fredericksburg Ave., Louisa. "Geometric Sandbox," Sept. 27 to Nov. 15. louisaarts.org.
Mary Washington Hospital, hallway gallery on first floor. New paintings by local artists. Featured artist: Kandra Orr. Through Nov. 1. A portion of sales benefit hospital; buy works during gift shop hours.
National Museum of the Marine Corps, 18900 Jefferson Davis Highway, Triangle. "War Dogs: Never Above You, Never Below You, Always Beside You," with life-size wood-carved war dogs, paintings from the collections of the Marine Corps, the U.S. Navy and the Coast Guard as well as "war dog"-related artifacts. Through September. 877/653-1775; usmcmuseum.com.
PONSHOP Studio and Gallery, 712 Caroline St. "Remixed 7," community art exhibition featuring original artwork using 12-inch vinyl record albums. First Friday reception 6-9 p.m. 540/656-2215; ponshopstudio.com.
Potomac River Fisheries Commission, 222 Taylor St., Colonial Beach. Annual exhibit by Maryland painters Marietta Dantonio–Madsen, Robert Wayt Smith and Joel T. Keener. 540/372-2066.
Sophia Street Studios, 1104 Sophia St. Works by local artists. First Friday reception 6-9 p.m. 540/372-3459; sophiastreetstudios.com.
Tappahannock Art Gallery, 200 Prince St. Mary Lloyd exhibit in honor of Konstantina Konstantinov. 804/925-1011.
Wegner Gallery, 520 Wolfe St. Paintings by brothers Steven and Stewart Wegner. 540/373-5662; worksbywegner.com.
Westmoreland County Museum, 43 Court Square, Montross. Photography by teaching duo of Cyndie Smith, who photographs the rural abandonment of the Northern Neck; and Rebecca Beale, who is inspired by the beauty in nature. westmorelandcountymuseum.org.
—Compiled by Gail Choochan