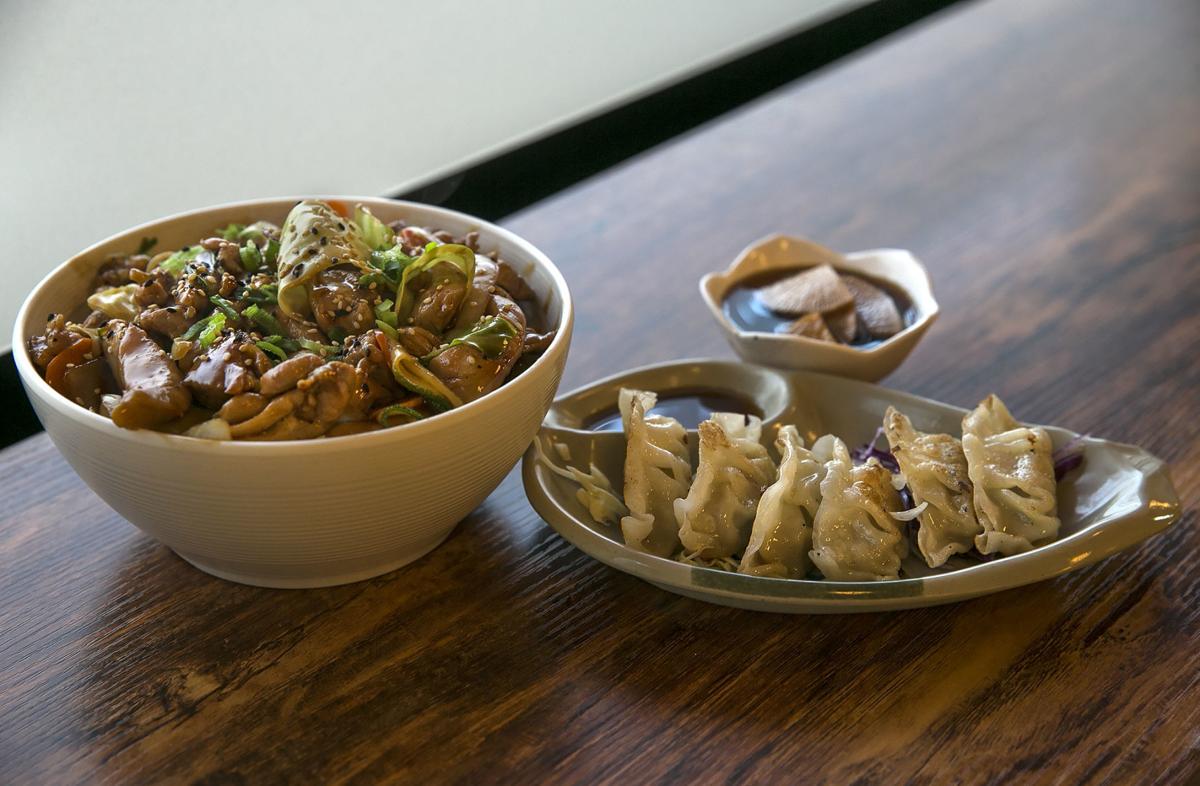 Japanese food is often beautiful. There's an art to it, a style. Think of the aesthetics of shrimp tempura, or an elegant sushi layout, or the graceful bowls of steamy, inviting miso soup.
There's even, in some cases, an artistry to the chef—think of the wild and fun chefs at Japanese steakhouses, for instance, throwing knives behind their backs and tossing eggs in their tall hats.
But while all of the flash and flame of those places is fun, the best way to truly enjoy Japanese cuisine is in a slightly quieter environment. Imagine a place where even the hanging ceiling lights match the grace of the presentation, and the atmosphere complements the dishes.
Enter Ichiban Japanese Ramen and Sushi. This new restaurant, located near Buffalo Wild Wings in Central Park, is a nice find in terms of décor, decorum and, most important, in plates that please the palate.
Now, don't get me wrong. While nice (the ceiling lamps—so amazing!), this place is not too fancy. In fact, Stafford Chick and I went there with a toddler in tow, and it was absolutely fine. But it is nice to find a place that has delicious food, along with an atmosphere falling somewhere between expensive steakhouse and mall food court.
We started out with a couple of appetizers, and both were excellent.
The first was Gyoza ($6.95), pan-fried Japanese dumplings, filled with vegetables and pork. They were melt-in-your-mouth tender and succulent. We also got Karaage ($6) for the toddler—crispy fried chicken strips, the best thing we could find on the menu to placate a non-adventurous eater. It worked.
And, to put the g in glutton, we decided to also try the Takoyaki ($5.95), described in the menu as: "Ball-shaped Japanese snack (fried octopus ball)." So, a calamari variant, then. We braved it, and were rewarded with an aesthetically pleasing plate that nicely matched the slight chewiness of octopus with a tender sauce and light coating.
Finally, we went with a fourth appetizer (don't blame me! it all looked too good to resist): Yakitori ($2.95). They are basically tender chunks of chicken on a skewer, with some delicate teriyaki sauce for dipping.
As with the rest, these were nice, simple and almost classic dishes, well-sized as appetizers to intrigue the taste buds and leave room for more.
Transitioning to the main courses, Stafford Chick got the Kabocha Soup ($3.95). It's a pumpkin-based delight that she described as: "creamy and sweet, but not too sweet, with a very light flavor—like, you wish that the chef could be at your house on a cold winter day and make it for you." Nicely said.
She also got Beef Ramen ($13.95) and it was compelling (yes, your honor, I plead guilty of stealing a few bites in the interest of bringing my dear readers the best review ever). Japanese noodles in a rich and savory broth with marinated beef. What's not to like?
Then came the fateful moment: Decision Time for the reviewer. What would it be? Sushi! In a place with "ramen and sushi" in its very name, you darned well try the ramen and the sushi.
Ichiban's sushi menu is vast, with some interesting options. I went with the following: Smoked Salmon ($5.75), which was delicately flavorful. The Shrimp Tempura Roll ($7.95), was composed of tempura shrimp, avocado, cucumber, masago (the bright orange fish eggs that accompany many a sushi roll) and a crab stick, in an unagi sauce similar to a thick, sweetened soy sauce.
Delicious and delectable.
Finally, in a fit of frenzied fancy, I decided to try the Baked Mussel Roll ($8.95). This is a California roll (the classic crab stick, avocado and cucumber mix) with masago, fairly massive mussels, spicy mayonnaise and unagi sauce.
It was the only disappointment of the day. Perhaps that's too strong a word. It may be better to say it was interesting, but not my favorite. The mussels did not recall the glories of moules marinère in France, for instance. Still, some might enjoy it.
In the interest of diversity, we took home a Tonkatsu Don ($12.95), as the Don dishes here are a prime part of the menu. Don refers to Japanese rice bowl dishes, consisting of fish, meat, vegetables or other ingredients simmered together and served over rice.
The Tonkatsu don is a Japanese deep-fried pork cutlet, accompanied by miso soup. The soup was warm and good, and the pork tender and inviting. Really nice.
Overall, Ichiban is a win. The word ichiban means "No. 1" in Japanese, and I'd give it a No. 1 ranking due to its blend of formal and casual. And the nicely done dishes will make you want to go back.
Dave Smalley is a Fredericksburg- based freelance writer, not overly fond of cooking at home, and father of four.