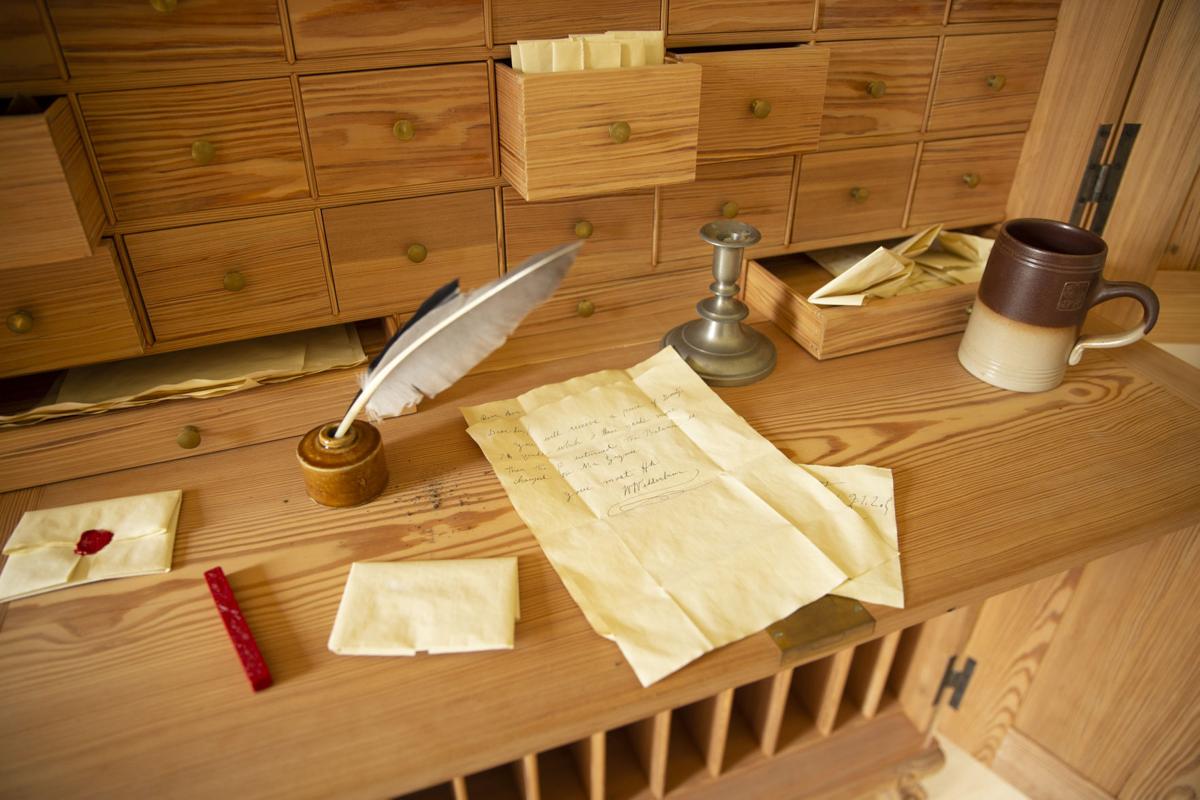 Days and hours of operation may vary. Call ahead or see website before visiting venue.
Art First Gallery: "Giving Back," featuring works by Jennifer Galvin. Through July 31. Bring a donation of canned food to the gallery for Micah Ministries and SERVE; part of the proceeds from art sales will go to Micah and SERVE. Masks required. artfirstgallery.com.
Artful Dimensions Gallery: "Welcome Back," works by artists in quarantine. Through July 26. Masks and social distancing required. artfuldimensionsgallery.com.
Branch Museum of Architecture and Design: "Listening Theatres: The Sounds of Iconic Landscapes and Architectural Spaces," featuring animations of The Academical Village at the University of Virginia, and New York City spaces: Grand Central Terminal, The New York Public Library, The Seagram Building, Rockefeller Center and The Guggenheim Museum. July 16 to Sept. 13. Other exhibits: "VA Made: Meditation Across Media," July 17 to Sept. 13. branchmuseum.org.
Canal Quarter Arts: Works by local artists and new artist in studio; outdoor mural in progress. No more than 10 people inside at a time.
Dahlgren Heritage Museum: Reopens July 10, with hours Friday through Sunday from 10 a.m. to 4 p.m. dahlgrenmuseum.org.
Darbytown Arts Studio: New works on display and works by several new artists. No more than 10 people inside at a time.
LibertyTown Arts Workshop: "Hidden Fredericksburg," works of hidden places and moments that makes our city fabulous. Through Aug. 2. Masks required and maintain social distancing. Make and Take Kits available for purchase. 540/371-7255; libertytownarts.com.
Modlin Center for the Arts: University Museums: "A Pound of Whatever Silver He Pleases," online exhibit exploring profit and power, connectedness and conflict in the 13th- and 14th-century eastern Mediterranean region through the examination of 53 coins from the Lora Robins Gallery Coin Collection at museums.richmond.edu. modlin.richmond.edu.
National Air and Space Museum: Explore the museum's collection of air- and spacecraft, stories of aviation and space, interactive activities and K-12 learning resources. airandspace.si.edu.
National Gallery of Art: Virtual tours of the exhibits "Degas at the Opéra," "True to Nature" and "Raphael and His Circle"; in-depth looks at highlights of the collection; online learning opportunities; audio and video recordings of lectures by artists and curators; and more. nga.gov.
National Museum of the Marine Corps: Virtual tour and distance learning programs. usmcmuseum.com.
The Phillips Collection: "Picture: Present" digital Intersections project, part of the artist's ongoing series Astrodoubt and The Quarantine Chronicles that features tragicomic visual narratives commenting on the current covid-19 health and social crisis. Available on website and Instagram. July 20–Aug. 7. phillipscollection.org.
Virginia Museum of History & Culture: "Agents of Change: From Women's Suffrage to Today," organized in conjunction with Virginia's statewide Women's Suffrage Centennial, celebrates a century of women's social and political activism in the Commonwealth. Through Nov. 1. Tickets must be purchased in advance. virginiahistory.org.
Branch Museum of Architecture and Design: Jefferson Baroque, performance by Richmond period instrument ensemble. July 11 at 4 p.m. Visitors asked to wear masks and practice social distancing. $30; light refreshments will be provided. branchmuseum.org.
GMU Center for the Arts: Mason Arts at Home, featuring livestreams from guest artists; releases of previously recorded content; opportunities to experience work by alumni, students and faculty; as well as interactive activities from across the college. cfa.gmu.edu/MAAH.
The Groove Music Hall: Upchurch Uprising Two, July 25; and "Quiet the Riot" summerfest, with Quiet Riot and Blackfoot, Aug. 22. thegroovemusichall.com.
High Tides on the Potomac: Jadyn, July 26 from 3-7 p.m. hightidez.com.
Hylton Performing Arts Center: Virtual 10th anniversary celebration, featuring performances by Marilyn McCoo and Billy Davis Jr. of the 5th Dimension and jazz vocalist Darden Purcell; a Raise Your Paddle fundraiser; and a home-delivered catered meal. July 18 at 6:30 p.m. Limited number of tickets available. Ticket levels include Full Access for $300, which includes a home-delivered meal and wine, and a View-Only ticket for $50, which includes access to the live broadcast. hylton.calendar.gmu.edu/hylton-center-10th-anniversary-virtual-celebration.
Kid Pan Alley: "Life is Good Because We Have Music" virtual house concert series with Rappahannock musicians and artists from the surrounding counties of the northern Piedmont, every Sunday at 7 p.m. July 19: Kyle Davis and Tom Teasley with hosts Paul Reisler and Cheryl Toth. Free; tip jar available for musicians. Sign up at KidPanAlley.org/hconcert. Also available: free songwriting sessions and concerts for children. KidPanAlley.org/online.
Music on the Steps: Virtual concerts: Cabin Creek (original and old time string band), July 20; Nick McAlister (oldies, rock, blues, country and originals), July 27. 7 p.m. Mondays. Dial-in number available if you are unable to watch online. librarypoinnt.org/music-steps.
Richmond Symphony: Beethoven Summer Series, featuring six casual, one-hour online concerts spotlighting a single instrument with piano. 6:30 p.m. Thursdays from July 9 to Aug. 13. $12 each or $60 for a subscription to all six. richmondsymphony.com.
Arena Stage: Molly's Salon, half-hour-long weekly conversations featuring artistic director Molly Smith with a variety of artists and leaders, 7-7:30 p.m. Thursdays; half-day virtual camps for ages 8-15, choose from a list of classes in theater, music, dance, media, visual art and writing; and a series of masterclasses on playwriting, acting, stage management and design. arenastage.org.
Folger Shakespeare Library: Streaming versions of Folger Audio Editions with Simon & Schuster Audio; Shakespeare Unlimited podcast; and Shakespeare for Kids activities for younger children. folger.edu.
Keegan Theatre: Online classes and half- and whole-day virtual summer camps, exploring storytelling, design, movement, music, games and more. keegantheatre.com.
Olney Theatre Center: Free Zoom classes, from story time and movement classes for younger kids to playwriting for teens to a play-reading club for all ages. olneytheatre.org.
The Paramount Theater: Movies on the Big Screen: "Independence Day," July 15; "Purple Rain," July 17; and "When Harry Met Sally," July 18. Showtimes 3 and 7:30 p.m. $5 ages 12 and under, $8 adult. Seating is limited; purchase tickets in advance. Masks required. theparamount.net/streamthemagic.
Signature Theatre: Signature Strong Live! featuring conversation and song with Signature favorites, 8 p.m. Tuesday on Facebook. sigtheatre.org/SignatureStrong.
Story District: "We Have a Situation" Summertime Show, featuring stories with the theme of things that go wrong or get out of hand. 7:30-9 p.m. Tuesday on Youtube. Donations suggested. Purchase tickets at bit.ly/Wehaveasituation.
Synethic Theater: Stream Giovanni Boccaccio's "The Decameron," a collection of novellas written in Italy in response to The Black Plague of 1347-1351; pay-what-you-can streaming options starting at $10. Virtual summer camps and classes available. synetictheater.org.
Busch Gardens Williamsburg: Virtual rides and standards-aligned resources available to help families virtually explore the wild world of animals and nature for grades K-12. Hands-on, creative resources include classroom activities, teacher's guides, Saving a Species video series, Animal Bytes and animal info books. buschgardens.com/williamsburg, seaworld.org.
Central Rappahannock Regional Library: Summer Reading: Dig Deeper runs through Aug. 31; participants of all ages can read whatever they like, complete online missions, earn virtual badges and become eligible for raffles and weekly drawings. Curbside pickup of books, DVDs, CDs, and magazines now available. Wide range of online resources, including e-books and e-magazines; Kanopy streaming video with more than 30,000 films; and Kanopy Kids educational streaming video for preschool age and up. librarypoint.org.
Children's Museum of Richmond: "Play Ahead" blog features activities, story times, art projects and parenting resources to help families learn through play. 804/474-7062; c-mor.org.
Fredericksburg Area Museum: Market Square Mysteries Archeology Camp: Explore how archeologist excavated and studied Market Square though activities, game and crafts. One-day camps offered July 16, 23, and 30 from 9:30-11:30 a.m. Grades 3-6. Campers will be provided with their own space and supplies in Market Square. Social distancing will be imposed. $30 FAM members and $35 nonmembers. Due to limited numbers, registration is required. famva.org/market-square-mysteries-archeology-camp. Take-home summer camp kit: History in a Bag (exploring last 100 years of Fredericksburg history) includes seven days of crafts, STEM projects and games inspired by each decade. Grades 1-6. Place order by July 9 for pickup July 15-17 from 2-6 p.m. at famva.org/history-in-a-bag. Cost with supplies: $35 FAM members and $40 nonmembers; without supplies: $15 FAM members and $20 nonmembers. For more information, contact Theresa Cramer at tcramer@famcc.org or visit famva.org.
Fun Land of Fredericksburg: Select outdoor activities and arcade games are now open weekends. Read updated safety procedures online before visiting. Wristband sales and park capacity during peak times will be limited. Learn more and purchase tickets at funlandfredericksburg.com.
Gari Melchers Home & Studio: Online art-related activities, Preschool Palette and Picturing New Connections lesson plans, printable games and coloring pages, videos, virtual tours, and jigsaw puzzles. GariMelchers.org/education/learn.
George Mason University: Registration is now open for Mason Community Arts Academy and Mason Game and Technology Academy, which is offering a variety of virtual theater, music, visual art, and film & video camps for students ages 5 to adult; and game design, computer programming, and machine learning/AI courses for students ages 9 to adult. Mid-June to the end of August. masonacademy.gmu.edu/online, mgta.gmu.edu/2054-2.
Imagination Stage: Free digital presentation of its early childhood theater production "Blue." imaginationstage.org.
James Monroe Museum: Special Hands-on History page with activities and enrichment content for all ages; and a large volume of presentations available on YouTube. jamesmonroemuseum.org.
Jamestown Settlement and the American Revolution Museum at Yorktown: Visit museums through apps, blogs, interactives, videos and a series of curriculum-based lesson plans for teachers and students learning at home. historyisfun.org.
Science Museum of Virginia: New Virtual Series "Science Shorts," featuring education team members who will offer a less than five-minute video explaining a science topic through a demonstration or activity; follow-up resources and corresponding activity guide will be posted on website. Tuesdays at 10 a.m. on museum's social media channels. smv.org.
Six Flags America and Hurricane Harbor: All members, season pass holders and guests with a single-day or group ticket will need to make a reservation. Masks required for ages over 2. Limited capacity to allow for proper social distancing. Temperature checks upon entry; learn about new safety, social distancing and sanitization procedures online. sixflags.com/reserve.
Stage Door Productions: Online Camps: Devised Performance Camp, July 6-10 from 10:30 a.m. to noon, ages 11-14, capacity limited to 12, $75; and One Day Repeatable Workshop Series: Open-Scene Workshop Camp, July 13-15 from 10 a.m. to noon (ages 8-10) and 1-3 p.m. (ages 11-14), capacity limited to 12, $20 per camp. stagedoorproductions.org.
A. Smith Bowman Distillery: Complimentary tours (limited to 10) require online reservations. Masks required; contactless temperature scans and information for contact tracing purposes will be taken. asmithbowman.com/planyourvisit.
CAF Capital Wing Warbird Showcase: View a Fairchild UC-61 Forwarder and a Boeing PT-17 Stearman (available for rides) and other iconic WWII aircraft at Culpeper Regional Airport. Other activities: STEM activities for children, a WWII museum and a 50-caliber machine gun turret. A food truck will be on-site. July 11 from 10 a.m. to 4 p.m. and Aug. 15. Rides can be purchased in advance by contacting CapitalWingCAF@gmail.com. Active duty or retired U.S. Coast Guard personnel will receive $20 discounts for rides in either the Fairchild Forwarder or Boeing Stearman. Warbird rides are also available in the Stinson L-5 Sentinel, North American T-6/SNJ and General Motors TBM Avenger starting at just $69.
Colonial Beach Virtual Osprey Festival: View photos, stories, videos and presentations on ospreys and other birdlife characteristic of the area. Local townspeople are being urged to become "Osprey Watchers" of the osprey families nesting in and around Colonial Beach; a King and Queen Osprey will be chosen at the end of their season in September with a prize awarded for the observant reporters. Send posts to president@downtowncolonialbeach.org or post on the Colonial Beach Osprey Festival Facebook site. colonialbeachospreyfestival.org.
Colonial Williamsburg: Purchase tickets online. Masks required when indoors; outdoors is optional but recommended. colonialwilliamsburg.org.
Ferry Farm: Will open for guided tours of the Washington house Friday. Tours will be limited in size to ensure proper social distancing; purchase tickets in advance to ensure availability. Masks are required while inside. kenmore.org.
George Washington's Mount Vernon: Buy tickets online for guaranteed entry, as capacity is limited. Masks required; learn more about policies for bags and face coverings online. mountvernon.org.
Heathsville Farmers Market: This month's market theme: "Kids Day," featuring special treats and activities, scavenger hunt (with prizes) and corn hole games; The Tavern Woodworkers Guild will give away kits for making wooden gliders. Wear face masks and social distance. July 18. 804/580-3377; RHHTFoundationinc.org.
Historic Kenmore: Now open for guided tours. Tours will be limited in size to ensure proper social distancing; purchase tickets in advance of your visit to ensure availability. Masks are required while inside. kenmore.org.
Ingleside Vineyards: Virtual tastings with winemaker Mark Misch, Wednesdays at 6:30 p.m. on Facebook Live. Courtyard seating open this weekend by reservation. inglesidevineyards.com.
Jamestown-Yorktown Foundation: Live weekly webcasts include "History Happy Hour" series, exploring distillation and brewing in early America, and "Historical Solutions to Modern-Day Problems," offering practical tips on how to tie knots for everyday purposes and learn to landscape using native plants. Also available: online summer history camps, weekly educational webcasts, curatorial blogs, museum apps and interactives, videos, games, coloring pages, Colonial recipes and more. historyisfun.org/at-home.
Lewis Ginter Botanical Garden: Reopens July 16; tickets go on sale July 12). Tickets are online only, timed and limited; no walk-ups. lewisginter.org.
Northern Neck Heritage Area Scavenger Hunt: On-the-road trip version: Drive to 18 museums and historic sites in the Northern Neck and Essex County and photograph a specific view or item. Photos must be posted to the museum's social media with the hashtag, #nnkroadtrip. Online version: Find answers to specific trivia questions posed by each site. Participants will search the historic organizations' websites to find the answers to complete the questionnaire. After finding all the answers, participants will complete the online questionnaire with their answers at northernneck.org/nnkroadtrip. July 1 to Aug. 31. Those completing either of the hunts will be entered for bi-weekly drawings for swag from museums and historic sites. To enter either contest, visit northernneck.org/nnkroadtrip.
"Make It a Heathsville Saturday": Includes Heathsville Farmers Market from 9 a.m. to 1 p.m. Saturday; artists working in their studios inside the historic Rice's Hotel / Hughlett's Tavern; blacksmiths working in the Tavern's Forge; and woodworkers in the modern and a Colonial era workshop in the "Carriage House." Third Saturday of the month through October. RHHTFoundationinc.org.
Rice's Hotel / Hughlett's Tavern: "Take-out at the Tavern" barbecue fundraiser. $20, includes Smoky BBQ Pulled Chicken, "Alabama White Sauce" and baked beans, along with Tavern-made tricolor pasta salad, carrot slaw, a bun and a "blonde" brownie for dessert; must be paid in advance online via PayPal. Pick up in front between 4-6 p.m. July 12 and present printed receipt. Purchase at RHHTFoundationinc.org.
Stratford Hall: Now open 10 a.m. to 5 p.m. Wednesday through Sunday. Visitors are asked to wear masks. Purchase tickets and read safety guidelines online. stratfordhall.org.
Thomas Jefferson's Poplar Forest: Guided tours of the villa offered Thursday through Sunday; limited to a maximum of 10 people; visitors encouraged to purchase tickets in advance. General admission fees: $18 adults; $16 seniors (ages 65 and older) and military (must show ID); $10 college students (must show ID) and teens (ages 12-18); $6 youth (ages 6-11); and free for children under age 6 and Poplar Forest members. Private tours available; $25 adults (ages 18 and older), $14 youth (ages 6-17) and children under age 6 are free; private tours must be reserved 24 hours in advance through the Museum Shop. 434/534-8120; poplarforest.org.
CANCELLATIONS AND POSTPONEMENTS
Fredericksburg and Spotsylvania National Military Park: This summer's History at Sunset series is canceled.
Riverfest will be postponed to Oct. 24; format will be adjusted for more personalized "party pack" option instead of hosting usual 1,400 person gathering down by the river. Party pack options go on sale starting Aug. 1. riverfriends.org.
—Compiled by Gail Choochan